A metà anni 30 lo studio dell'aerodinamica è agli albori.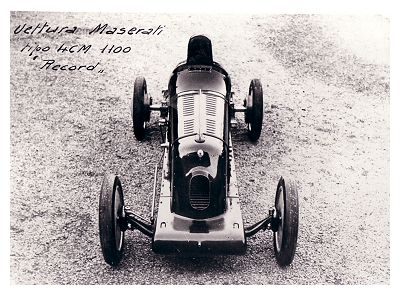 La Maserati 4 CM di proprietà dell'ing. Giuseppe Furmanik viene usata come vettura laboratorio per i nascenti studi sperimentali sull'aerodinamica.
La vettura si evolse rapidamente col progredire degli studi. 
La carrozzeria originale della 4 CM, fu completamente modificata nel tempo fino a una carenatura pressochè completa con lo scopo di creare linee sempre più fluide e continue.
In coda spunta una grande pinna stabilizzatrice.
L'abitacolo viene chiuso da un cupolino tanto da fare assomigliare la vettura ad un siluro da cui il nome "Maserati Siluro 4CM Carenato".
Persino i freni anteriori vengono eliminati per alleggerire quanto più possibile la vettura e consentirle una maggiore velocità.
La Carrozzeria Viotti di Torino crea l'affusolata veste sul telaio Maserati 1120, ovvero quello della precedente 4 CM 1100 da record, equipaggiata con il motore numero 1536. 

La 4 CM conquista e migliora i suoi stessi record più volte: il primato è ottenuto nel 1934 quando sulla Firenze-Mare Furmanik conquista il record classe C (1.100 cc.) sul chilometro lanciato alla media di 222,634.
Due anni dopo a Pescara, stavolta su vettura classe G, ottiene il primato del chilometro da fermo in 27''38/100 alla media 131,483 e del miglio in 39''57/100 media km. 146,415.
Venti giorni dopo sulla Firenze-Mare migliora gli stessi primati con partenza lanciata, sul chilometro in 14''42/100 media 249,653 e del miglio in 27''28/100 media 212,376.
Migliorava inoltre i primati di classe D sul chilometro da fermo in 23''865/1.000 media 150,849 e del miglio da fermo in 35''00 alla media di km. 165,532.
Nel 1937 sulla Firenze-Mare il 2 e 3 giugno migliora i primati di classe F1 nel chilometro da fermo in 24''935/1.000 media 144,3, nel miglio da fermo in 34''325/1000 media 168,8 e nel chilometro lanciato in 15''9/100 alla media di km. 238,6.
Le prove erano avvenute su una Maserati ora di 1.495 cc. allestita con la collaborazione del Centro Sperimentale di Guidonia.
 La Maserati 4 CM telaio 1120 è stata battuta all'asta nel 2014. Ecco la descrizione della vettura e della sua storia completa.
The Ex-Ing. Giuseppe Furmanik
1933 Maserati Tipo 4CM Single-Seat Racing Vetturetta
Chassis no. 1120
Roman motoring celebrity Giuseppe Furmanik was a leading light in the Italian racing world of the 1930s. He was President of the Royal Automobile Club of Italy (RACI) and he was a most capable engineer in his own right. He took delivery of this originally 1100cc Maserati 4CM – 4-cilindri monoposto – single-seat racing car on August 12, 1932. The compact car was very avant-garde at that time, featuring as it did the driver-width centerline bodywork just introduced to Grand Prix racing by the celebrated Alfa Romeo Tipo B Monoposto, and with hydraulic brakes this was a most sophisticated and trend-setting little machine.
Everything that went into the car was miniaturized in quest of lightness, for 1100cc class competition was very dependent upon making the most of the limited power output available, and power-to-weight ratio became all important. The car's two parallel main chassis members were united with a constant width of 620mm, and the bodywork was so tightly proportioned that it had to have the handbrake lever mounted outside. The driver was well positioned within the cockpit, and when the model was launched, it was very well received by the racing fraternity.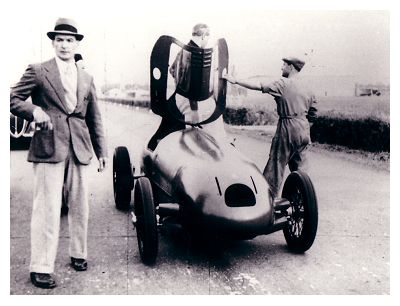 The 4CM proved to be very successful. In July, at the 1932 German Grand Prix meeting at the mighty Nurburgring drivers Ernesto Maserati and Ruggeri won the 1100 Vetturetta class in a 4CM-1100, also achieving a very credible third in the 1500cc class.
Furmanik subsequently decided to challenge the World Speed Records for the 1100 class. He took his car – chassis '1120' offered here – and on November 11 that year bench tested its modified engine after a series of improvements which boosted its power output from the 125bhp at 5,300-6,000rpm claimed as standard with these cars. To further reduce weight, he removed the front brakes from the car and the gearbox was adapted to offer only three speeds. The weight of the car was pared right down to only 470kg – just 1,036lbs.
At the Autostrada Firenze-Mare in 1934 Giuseppe Furmanik set a new world record for the flying kilometre in the 1100cc class, achieving 222.634 kilometers per hour (over 138mph), comfortably breaking the previous record of 207.527kph held by MG.
Giuseppe Furmanik's record attempts were well publicised by the Italian Fascist press of the time, and he wore a glorious uniform in many of his public appearances. Maserati's new financier and promoter Gino Rovere came in on the act, and the power output of these little engines was publicised as having hit 150bhp at 7,200rpm which relates to 143bhp per litre, claimed to have "never been achieved before from an automobile engine". Furmanik would continue to break further records in Maserati 4CMs, further reducing weight and adopting even more streamlining, pushing the terminal velocity to around 150mph.
Meanwhile, 1120 had returned to the Bologna factory where it was re-engined with a full International 1500cc power unit for Voiturette class competition, and it was adopted by none other than Gino Rovere himself. It is understood that it was Rovere himself who commissioned the distinctive and stylized aluminium pattern to the radiator grill. He took the 4CM to England in 1935 where he drove the car both at Brooklands and at Donington Park.
Gino Rovere was to sell 1120 in 1935/36 to British private owner-driver Teddy Rayson who would continue to campaign the car. This category of racing was well supported and competitive and, through the mid-1930s, there was a terrific upsurge of interest in 1500cc Voiturette or Vetturetta racing, as a schoolroom or essentially privateer category below Grand Prix racing level.
Many years postwar the car appeared at a UK auction in 1976, acquired apparently by R. A. Jones, and subsequently campaigned in the UK from 1984 by Sean Danaher, who re-fitted the distinctive nose-cowl. He ran the car initially with 1100 motor and from 1991 as a 1500. It proved hugely successful in that form, dominating many Historic races through the period 1992-1998 driven by Martin Stretton (first for Danaher, then for new owner Simon Bull). The car was subsequently acquired by experienced motor-cycle and motor car racer Barrie Baxter, who campaigned it from 1999 until it was acquired by Stefan Schollwoeck who continued its Historic career.
The respected workshop of Sean Danaher Restorations Ltd have both owned and looked after 1120 for many years. Mechanically, 1120 has received an engine rebuild and has been dyno tested at over 200bhp. Work included new crankshaft, rods, pistons. A new clutch has been installed and the rear axle has been built with new crown wheel and pinion. The front axle has also been repaired. It should be noted however that the car is workshop finished and has not been tested, or set-up, for racing. That work is still required and the Danahers would be pleased to offer ongoing support for the new owner.
The Maserati 4CM Vetturetta is a rare car, with some reports saying just 13 produced. They even more rarely come to the open market, so the opportunity to acquire one is very limited indeed. Here we are proud to offer such an example from a most nostalgic era of road racing competition, and one with a highly regarded provenance and front-running Historic racing career. We recommend the closest consideration – in the right hands '1120' offered here could soon be winning again.